Villa Arbusto
Duration: 2 Hours
From: Villa Arbusto
To: Villa Arbusto
Languages: Italiano
Scale: 1 - 10 people
Tour size: 50
Vom 1. April bis 31. Oktober ganztägig von 9.00 bis 19.00 Uhr Vom 1. November bis 31. März von 9 bis 17 Uhr geöffnet Montag und 25. Dezember geschlossen
The Archaeological Museum of Pithecusae shows the history of the island of Ischia from Prehistory to the Roman age in eight exhibition halls. Particularly interesting are the ceramic artefacts that were found in the village of Pithecusae, the most ancient Greek colony on the coasts of the Tyrrhenian Sea: it was founded in the second quarter of the VIII century B.C. by the Greeks of Euboea.
This colony played a crucial role in the birth of Magna Graecia and its civilisation, and also in the spread of alphabetic writing: this is proved by the metric inscription engraved in the famous ceramic cup coming from Rhodes known as "Nestor's Cup" on display at the Museum.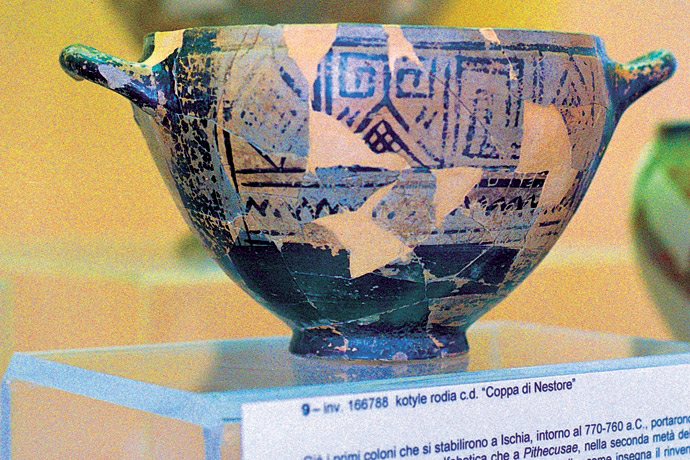 The Museum is part of the Villa Arbusto complex, which also includes the A. Rizzoli Museum, the park and the "Villa Gingerò" exhibition hall.
Well-organized. Everything was great!

07-14 days
Group - Corporate
Educational

EVERYTHING! The tour guides were so insightful and pleasant to be with during our tours. They gave us great education on the history of the cities and made sure to give us great local recommendations on things to do and places to eat after the tours. The drivers and the boat captain were also incredibly friendly.

Removed one destination from our itinerary and spent more time in each of the remaining destinations.

9.2 / 10

2

Enjoyable and Memorable

03-07 days
Family & Friend
Adventure

Our trip was absolutely amazing and definitely 'an experience of a lifetime'. From our very first contact with this travel company, through the entire planning and booking process, and each aspect of the actual trip, the level of organization and service and professionalism exceeded our expectations.

In reviewing our trip, we feel that the itinerary and pace were really well thought out and executed, so there is very little we would change.

8.2 / 10

1

PERFECT HONEYMOON for us

01-03 days
Couples - Honeymooners
Spa - Relax

Our tour guides were fantastic and made a big difference to our experience. It was a joy to use a flawless travel company. They arranged everything so we didn't have to worry about details.

We were honestly so pleased with our trip that we don't think we would change anything.

8.5 / 10

3
Very good |
3 reviews
Important information
Price includes
Admission ticket
Price excludes
All kinds of extras
Cancellation policy
Possibility of cancellation without penalty within three days from the beginning of the tour. If you need a transfer service or if you are a small group, ask for special rates.